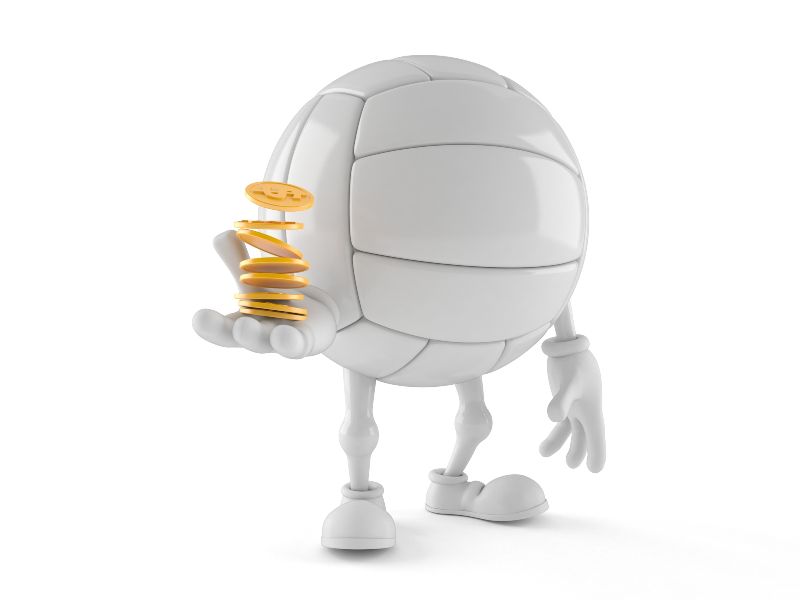 Overall Volleyball is not a very expensive sport (Like Golf for example), yet it requires some costs upfront that you should be aware of …
Some new practitioners who have a very tight budget might get discouraged when they discover that there are some costs involved they didn't know about earlier.
In this article, I cover all the possible volleyball costs, and will breakdown them by mentioning those that are mandatory and the others that are not that critical.
Let's dive in!
First … How much does it cost for volleyball teams in general?
Very high-end teams with higher travel frequency across the country can easily spend $8,000 to $10,000 per year, with club fees accounting for $4,000 to $6,000 of the total.
Club programs that are less competitive and more regionally based are usually around $1,500.
These clubs are less likely to travel and have shorter seasons!
Travel costs a significant amount of money. Shoes, uniforms, warm-ups, hotels, and other expenses are also included.
Tournaments cost money as well when it comes to preparations and travel hotels etc …
How much is volleyball equipment?
First thing you should consider when it comes to the costs is obviously the gear. This is especially important to help your performance and to ensure a minimum of protection against injuries …
In the following list, I will mention for each gear whether it is mandatory or optional (in the title), the great utility and an indication of its price.
Ankle braces (Not mandatory)
Because ankle injuries are the most common in volleyball, many veteran volleyball players and coaches consider using ankle braces.
Ankle braces are typically priced between $20 and $40.
For people who don't have a history when it comes to ankle injury, they probably don't have to use it. Yet it is still an extra level of protection for your ankles.
Arm sleeves (mandatory)
In volleyball, arm sleeves are used for both comfort and protection. They can be used as compression sleeves to improve blood flow or to protect the arm from floor burn.
Arm sleeves price vary a lot depending on the material, color, and quality (Check this Arm Sleeve Current Price)
Elbow Pad (not mandatory)
Their importance is especially amplified when playing at higher levels, as players tend to dive more when things get very competitive. Their price can range from 10$ to 60$.
Bag and backpack (mandatory)
It is necessary to have a bag to keep your volleyball equipment together and well organized.
The larger the bag required by a player, the more accessories and equipment you can bring with you.
A backpack or a duffel bag is available in a wide price range depending on the thickness, number of compartments, personalization, brand, and material of the bag
Ball (mandatory)
Every volleyball player should have a ball of his or her own.
The Ball Price depends mainly on the Brand, the size and the used materials (Check this quality ball Current Price).
Nets (Not mandatory for individual players)
The net for men's volleyball should be 8 feet above ground level, whereas the net for women's volleyball should be 7 feet and 4 inches above ground level. A volleyball net can cost anything from $75 to 550 $.
Volleyball shoes (mandatory)
The soles of volleyball shoes are made of gum rubber and are optimized for lateral movement.
The price depends on many factors like the targeted age, gender, size, and brand of the shoe (Check this quality volley shoes Current Price)
Volleyball uniform (Not mandatory for amateurs)
The volleyball uniform consists of a sleeveless jersey and shorts that match. Volleyball uniforms often range in price from $60 to $120, depending on the material used and the brand name associated with it.
You can check this complete list of volleyball gear!
How much do volleyball clubs cost?
It won't be long before you're considering joining a club volleyball team if you're serious about pushing your volleyball career to the next level.
Joining a club during the off-season provides a fantastic opportunity for players to develop. The initial cost of joining a club is the most obvious expense.
Each club sets its own dues, which can be as low or as high as the club sees fit.
The cost of a typical club season ranges from $3000 to $5000, depending on a number of factors.
Average clubs
Most typical clubs will have a large number of paid High School coaches and staff. They usually have a dedicated practice facility and attract enough players to create many teams at each age level, giving your child the option to find a place where he or she can fit in.
Training camps for your age group with 100+ players are common.  Some of these clubs have a limited number of coaches and team spots available, and they are only interested in hiring the best players they can find to fill those spots.
Other clubs are more inclusive, with a flexible number of teams, and will simply add more teams and coaches to the lower level of the talent pool if necessary to ensure that every player has an equal opportunity.
Prices can range from $1800 for a lower-level team with only two or three events to $3500 for a top-level team with 7-8 tournaments
This type of club focuses on providing the highest level of teaching and competition at a reasonable cost. These organizations also assist players in getting recruited to colleges.
High profile clubs
High profile clubs almost always have their own dedicated facilities, which is typically very elaborate and extensive.
They will provide the best coaches available, pulling from the area's best high school and even college coaches. Within their club, they will normally have three levels of teams: national, regional, and local.
To play on their Team, you must be a very accomplished athlete who can devote a significant amount of time and pay the highest levels of dues.
For the season, these players will typically spend between $4000 and $6000. Keep in mind that this is only the cost of becoming a member of the team.
These teams will normally compete in ten tournaments on average. These tournaments can take place anywhere in the country and may necessitate travel and other significant expenses.
When you join a Regional Team, they will normally schedule 7 or 8 events for you, and your dues will reflect that.
Due to the fact that these events would be smaller and less prominent, the cost per tournament should be reduced. Playing for a Local Team in one of these premier clubs requires a significant amount of time and effort.
They'll usually have 5 or 6 tournaments in a smaller geographic area. The advantage is that you are still exposed to excellent coaching and are a part of a winning organization.
All of the club's teams may compete in some of the same tournaments, or they may not compete at all. It all depends on the competitions offered and the club director's ambitions.
The goal of this type of club is to be the best, to compete against the top teams in the country, and to achieve national recognition. These teams will provide excellent opportunities for players to be recruited for the next level.
Examples of elite volleyball clubs include:
S. National Collegiate Volleyball Championship winners
National Volleyball Hall of Fame inductees
S. Olympic volleyball team.
These clubs have a history of winning, performing well at major tournaments, and developing top volleyball players.
They are able to attract top players, which helps them perform well at tournaments and develop world-class volleyball players. Because of their success, these clubs have been able to build a loyal fan base, which helps them perform well at tournaments and build the brand value that allows them to attract top players and build their team.
How much does it cost to play volleyball in high school?
If you want to play volleyball in high school, the cost will range from $100 to $200 per player per year.
This doesn't include the cost of equipment, uniforms, or travel expenses. Most schools don't have enough money to provide all their players with the equipment and uniform they need.
This means some players have to decide whether to play volleyball or not. The costs of equipment, uniforms, and travel can easily add up to more than $1,000 per player per year.
For many players, these expenses are a major reason why they don't continue playing.
For people in high shcool about to get started, should learn how to get started in volleyball at ages of around 16!
How these costs are compared to Europe?
In the United States, the cost of playing in a volleyball league can be anywhere from $45-$80 per player per season …
In Europe, the cost of playing a volleyball league can be much higher. In some countries, volleyball leagues can be as expensive as $100 per player per season.
The costs of playing in a high school volleyball league in the United States are similar to the costs in Europe except that travel costs are generally higher in the United States.
However, the cost of purchasing or renting the court area, buying equipment, and paying for coaches can be significantly lower in the United States.
Is volleyball expensive comparing to other sports?
Playing in a soccer league will easily cost you $1,000 per player per year. Even though soccer is the most popular sport in the United States, many players don't have the money to play year-round.
This drives many players to other sports, like volleyball, which is much cheaper to play. Playing in a volleyball league, on the other hand, will only cost you $50 to 100$ per player per year.
This has allowed volleyball to become one of the most popular sports in the United States, and it is also one of the most competitive sports at the Olympic level.
Basketball is also more expensive to play than volleyball, average spending on playing basketball is around 400$ per year.
For specific iteams, you can also learn about why  …
Final Thoughts …
Most readers of this website like to read about things like techniques and drills they should do to improve their skills. While this is very important for you as a player, it is also as important to have an initial idea on the cost that comes with practicing volleyball depending on the level you are playing in and the club credentials you want to be involved with …
In fact, so many talented players have left the sport or have chosen to play it only at an amateur level just because they were surprised by the costs.
That's why, you should prepare from now these costs upfront so you will be ready whenever you need them.