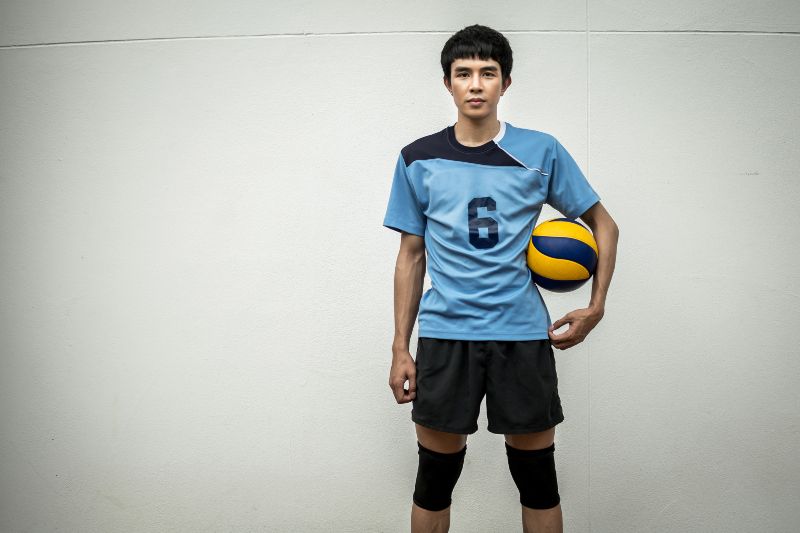 Volleyball tryouts is a HUGE opportunity not only for players to showcase their skills and gain a position in a new team/club, but also for coaches to find new talents and new gems to reinforce their team …
However, this doesn't come randomly, each coach has his own set of criteria to evaluate and hand pick their new players.
In this article I breakdown 12 important criteria that most coaches are looking for during volleyball tryouts.
1. Athleticism
Physical attributes like speed, strength and agility are all extremely important elements that the coach needs to notice.
Good news is that you can work & improve all these attributes with the right preparation. One more good news I have for you is that for most coaches these physical attributes are much more important than your natural attributes (height being one of them) …
Indeed, even if you are quite short (shorter than 5 foot 10 …) you can still manage to convince coaches to choose you regardless of your height as far as they can clearly see your athleticism.
Not to mention that shorter players can practice volleyball at the highest level in positions like Libero and Setter.
2. How Serious are you?
Even if you've got solid physical attributes you won't make it unless you showcase your seriousness about the tryouts. One important element to showcase that is your will to perform as well as you can …
However, if you are wearing regular sneakers with no protection equipment whatsoever, then this probably would send a bad sign to the coach about your overall commitment.
That's why I highly recommend using Proper volleyball shoes as well as quality knee pads & knee sleeves (Check this example model Here at Amazon) as this will send a positive signal to the coach that you are serious about your performance as well as your safely.
Quick Tip: For volleyball tryouts, I highly recommend using volleyball shoes with solid grip. Indeed, this will help you execute most volleyball movements with much better accuracy. For example, these quality volleyball shoes have got good grip that you can rely on.
3. No Impact on your Grades!
Coaches don't look only at your performance inside the court; they also consider your performance in the class…
Indeed, having good grades in high school and being dedicated to your studies will remove any concerns about your academic career.
The NCAA (National Collegiate Athletic Association) has mandated semester credits and GPA (grade point average) criteria in place to guarantee that players retain good grades. Volleyball is a blessing to play in college, and only a small percentage of volleyball players go on to play professionally, so academics are crucial, and coaches want to see that you are focused and smart about your responsibilities and priorities.
By the way, if all what you have is One day to prepare for tryouts, then you should can check these tips to prepare for volleyball tryouts in the last 24 hours!
4. Team play 
Volleyball is obviously a team sport, to succeed in volleyball, all six players must work together on offense and defense sequences to manage win as much points as possible.
Guess what …
Coach doesn't only consider your performance in the court to know whether you are a team sport person or not. He also considers your behavior in the bench …
Indeed, he wants to see players on the bench who are enthusiastic, supportive, and cheering for their teammates.
During the game, one must put aside position competitiveness in favor of a game competition, and while you work hard in practice to beat out your partner, you provide her advice, encouragement, and comments to help her win the game.
5. Ability to play multiple roles 
While many high school volleyball players specialize in one role or position, college coaches frequently look for players who can play several positions in the court (You can learn how you can choose your volleyball position)
They want someone who can try out a few different positions on the court to see whether they can perform well in those positions, and also to know which one is the best fit for the player.
From middle hitters switching to the right side to setters turning to defensive specialists, many college coaches believe that if a player can pass and defend well, he or she will be able to adjust to any situation on the court.
Keep in mind that the ability to play at multiple positions is extremely demanded, even if you are dealing with a bad volleyball coach!
6. Passion!
If you've watched a professional volleyball game before, one thing you will certainly notice is the PASSION! Every single player seems extremely passionate in the court like if his life depends on the ongoing game.
Coaches want to clearly notice that!
Don't worry if you have to fake it, as they say "Fake it until you Make it"
7. Are you a Competitor?
Coaches are always actively looking for competitors (as simple as that), athletes who want to win and who will work hard to do so.
Volleyball, like any other sport, is all about competition. Knowing the score of each drill or game in which you are participating is one method to show instructors your competitive side. This shows your competitive nature and emphasizes how hard you are going to sacrifice to win.
It can also show to a coach what happens in case you're losing: do you keep fighting or do you give up? Show them that whether you're ahead or behind the opponent, you constantly fight for every single point and believe in the win up until to the last second.
You can learn more on how to be positively aggressive in volleyball!
8. Ability to Learn & Evolve!
Coaches look for athletes that are teachable, receptive to constructive criticism, and eager to follow instructions.
Coaches can tell when a player respects authority, the team, and the process required to improve and progress in the game by these characteristics.
If something is off, you can feel tension between players, so it's important that your personal issues with other teams stay off the court so you can focus on team play and the game.
Coaches are looking for someone who understands how to play and function as part of a team, as well as someone who is not selfish and has respect for their teammates.
9. Leadership Qualities
Having leadership characteristics will put you ahead of the competition. You will most likely be good material for a leader if you are a good motivator and communicator, if you lead by example, if you push your team to work harder and if you support them both within and outside of the court.
Athletes with leadership qualities such as honesty, accountability, humility, and integrity are rare gems that every coach dream to have.
10. Ball control
Volleyball isn't always about the hardest swing or the best serve placement. Good ball control is one of the most important talents that coaches look for.
Coaches pay close attention to how a player reacts to a hard hit ball. Is the player frantic, or is he or she low, ready, and halted, relying on their platform to complete the task?
Other things to look for are how players respond when there's an out-of-system ball or whether or not they're aware of what's going on the court.
11. Experience
 This is not 100% necessary, yet it is a Plus! This comes through practice and understanding how to handle the ball well.
Playing organized volleyball on club teams and at skills training and Position provide the best experience.
While experience is valuable, it is simply one of many critical factors that go into being a great player.
12. Volleyball IQ!!!
This is another and very important factor that every single coach is desperately looking for during tryouts. But what does Volleyball IQ even mean?!
You will find many different definitions, but the most common one is simply the ability to make the best decision depending on each situation regardless of how difficult and chaotic the situation is. Generally, those decisions make all the difference and allow the team to win games and even tournaments!
Think about it this way, you are great at serving, spiking, hitting, diving, setting … and all those volleyball moves; but you need to know exactly which move to use at which moment at which manner at which intensity and at which direction … This only comes all together and fall in place for players that have high volleyball IQ.
 Final Thoughts …
I am very happy that you've went through this whole article, because very few amateurs and even semi-pro players know about these criteria …
Good news is that you don't really have to be great at all the elements I've shared here. Indeed, you manage to be good at 3 or 4 of them, then you will certainly be better than 95% of all competition.
Finally, I highly invite you to check these helpful tips to get in shape for volleyball tryouts! I think you will find these very interesting …