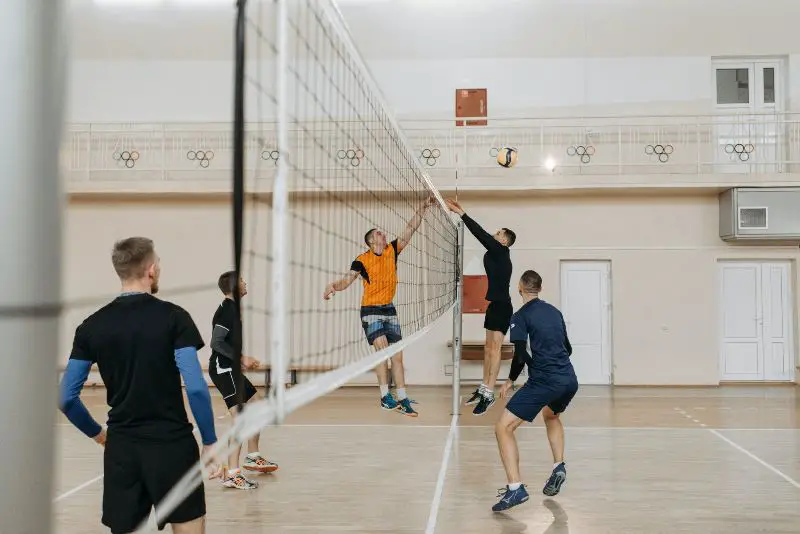 Indoor volleyball has 6 different positions and choosing the one where you are going to play most of the time could not be an easy task, especially at the beginning when you are just discovering yourself in the sport …
In this article I will try to help you out choosing the right volleyball position for you by making your ask the right questions as well as by explaining what each positions requires in terms of skills and physicality.
Without further ado, let's dive in!
5 Important questions you should ask yourself …
1. Are you Left-handed or right-handed?
Left handed players are usually more able to hit the ball from right side of the court. And vice versa for right handed players.
If you are a left handed player, then you are probably lucky. Indeed, generally right handed players are more available to coaches than left handed.
Not to mention that opposite teams tend to suffer more against left handed players, simply because it sis significantly harder to read their moves.
2. How tall are you?
This is a very important factor. Indeed, volleyball players average height is usually about 5 foot 11. So, if you are taller or even much taller than that, you can definitely player as a blocker or outside hitter.
However, if you are just about that height or less, then it would be better to play as a libero or a setter.
Quick Tip: If you are lacking some height, then you can definitely use volleyball shoes with high soles. This will give you a little extra edge when it comes to height and even help promote your vertical jumps. For example these quality volleyball shoes have solid cushioning and high soles that can help in that regard!
3. What do you enjoy the most?
What do you like about volleyball? Is it exciting to stop someone one-on-one? Is this the team aspect of the sport? Do you like doing hard jumps in the backcourt? Or are you alive to squeeze the ball into the line of scrimmage?
It's important to have the player happy and enjoy playing in his position. Therefore, players will enjoy improving their skills and striving to become better and more successful.
4. How is your jumping ability?
How flexible are you as an athlete? Big Size will answer you with "incomplete" or "average" and some of you won't know.
Being able to jump high is somewhat important in volleyball, but that's not all. In any case, with enough hard work and dedication, this can definitely be developed.
5. What does your leadership looks like?
Certain positions require certain types of people to perform well. If you're a shy, quiet and tend to not talk much, you could be in big trouble as a setter.
This position requires someone willing to take responsibility on the floor, shoot the ball and be in charge of the overall offense.
You have to be the loudest player on the team. Not everyone can do this just because they are alone. It's ok. Sexual attackers are in a similar position and should be prepared to take on additional responsibilities as the primary attacker on the field. Both installers and outsiders must be very reliable and ideally have solid leadership skills.
Centralists, antagonists, and libertarians can only hold their heads high and play their part most of the time.
List of volleyball positions with their qualities and traits
1. Setter
The setter's main task is to place the ball perfectly for the attacking player. He or she also plays an important role in team communication. Having the right communication skills is very important for players to get the most out of their play time.
Keep in mind that this position is critical when it comes to the rotation process in volleyball!
2. Outside Hitter
Outside hitters are often referred to as the main attackers in attack strategies. To be successful, outside hitters need to be willing to work and  adapt to different situations. Apart from being able to jump high, outside hitters must be prepared to face different types of shots.
3. Middle Blocker
Middle blockers are the tallest players on the team. Your main role is to be the team's first line of defense. They block well and aggressively against the hits of the attacking team. You also have the opportunity to quickly earn points during the set. The middle blocker usually uses his arm to raise his hand over the net to block the ball.
4. Libero
Libero's role can be a bit confusing for non-volleyball players, as the back row of the court is the only area that players on the team can play. In addition to being able to play in the back row, defenders must also follow certain rules. Some of these aren't hitting the ball directly on the net and aren't playing the set for front attackers.
5. Opposite Hitter
These players, also known as right-side hitters, need to provide the perfect balance of attack and defense. There are also  many opportunities to hit  volleyball, so  jumping ability is key, just like outside batters. The main difference that makes enemy batters stand out is their defensive responsibility. Being able to accept the serve of the opposing team is just one of  many requirements for this special position.
6. Defensive Specialist
He can play the role of any other player in the court. Yet, they need to focus more on ball control as well as passing/setting with a good collaboration with the libero.
To learn more about volleyball positions, then I highly invite you to check this complete guide about the 6 volleyball positions! You will definitely learn a lot …
Should you let your coach choose your position?
I wouldn't say that this is something that you should do, because at the end of the day, it is up to you to make those choices. However, it would definitely be wise to get your coach's opinion in that regard …
However, it shouldn't be any coach, indeed, you should be under his supervision for quite a long time for him to learn enough about your physical attributes, your skills, your preferences, your personality as well as your abilities to learn ad evolve as a player.
Not to mention that you need to be sure that your coach is an honest person. I mean, I hate to say that, but there are some bad  volleyball coaches out there who won't be happy for your success, and obviously you wouldn't take advice from these kinds of people.
Position to choose for short players
Libero is a without a doubt the best option for shorter volleyball players. Simply because the nature of the position is mainly defensive and don't require any blocking or hitting tasks.
Keep in mind that this position is pretty much prohibited from directly attack the opposition. This is good news for shorter players who are aspiring to become pro volleyball players …
However, you need to be aware that there is only one sport available in the court at a time, not to mention that the whole team generally doesn't have more than 2 liberoes.
Finally, I wouldn't definitely say that shorter players can also play the role of the setter which in most cases is not require to hit or block the ball.
Position to choose for tall players
Middle blockers, sometimes referred to as middle blockers, are the tallest players on the volleyball team. The main role of the team is to be the first line of defense against the hits of the opposing team.
Position to choose for left handed & right handed players
Right-handed players can generally operate in the opposite hitter position that occupy the right side.  Simply because of the way they square up to the net to attack…
Also, it can be an advantage as a setter because being left-handed will make it more natural to do a setter`s dump or even attack from the setter position.
By far, the most common place you`ll see a lefty play will be the right side, being the opposite hitter. When a left-handed hitter approaches from the right side, they have a much more open look at the court and can hit all the angles, just like a right-handed hitter from the left side.
A true left hit changes the game, as defense is used to blocking and defending right-handed people (even from the opposite position). Not only do they hit better sideline shots and crosses, but they  also add different spins to the ball, which is difficult to make up for.
Should you switch positions or stick to only one?
For a smooth volleyball game, it is important for the team to understand proper spinning techniques. A team will only rotate in volleyball if they receive a serve after winning a rally with another team.
Once the team receives the serve, all six players should rotate once clockwise so that the new server rotates from the front right to the back right of the court.
Final Thoughts
Hope this article has given you many answers to the questions you've got about choosing a volleyball position. My recommendation for you is definitely to pick one position based on the elements explained in the article above and stick with it long enough before deciding whether it is actually the best position for you or not …
Finally, don't hesitate to try all possible positions out there as this will give you a feel of the one that would fit you and your abilities the most!