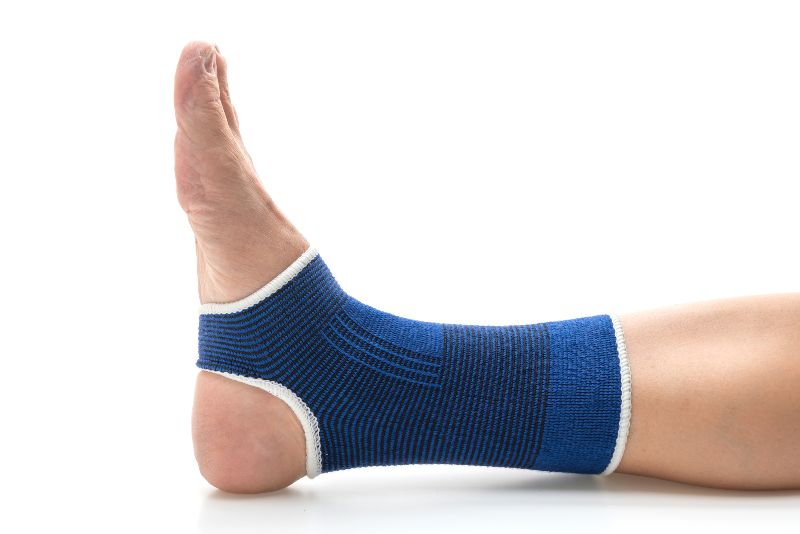 Volleyball ankle braces are very important to keep your ankle well supported and safer from any potential injuries. That's why they tend to be used quite a lot not only by professional players, but also by amateurs …
Thus, it is extremely important to learn how to take care of them (cleaning, washing, storing …) to be able to use them for a long time.
This article provides volleyball ankle braces care tips, especially when it comes to cleaning.
Volleyball Ankle Braces – Natural Cleaning Options.
As all sports gear ankle braces too get dirty and smelly. For that there are couple natural washing options …
There are mainly baking soda and vinegar …
Mix some baking soda and vinegar into a small amount of water. Put your braces in that mix and let them rest for a few minutes, until they are soaked. After they get soaked with water, give them a good rubbing and dry them afterwards.
This mix of vinegar and baking soda is effective to eliminate bad smell!
There are also a few more plant based cleaning products that would do the trick, but baking soda and vinegar are the best house hold natural option available.
How often should you clean them?
First, keep in mind that there are mainly 2 types of braces:
Those without metal components and simple sleeves (Check this Example)
Metal braces that have metal components
Metal braces are harder to wash than those that do not have the metal components and simple sleeves. For example the ACL or OA braces are more difficult to wash because of their overall design.
The simple braces are easier to wash and it is often recommended to wash them once or twice a week, all depending on the intensity of practice (You can learn more about what to wear for volleyball practice sessions)
The more advanced braces that are comprised of the metal parts, are recommended to be washed after every practice or every usage if you will. That also depends on the intensity. You can wash them after two practices, but the goal is to wash them frequently.
How do you hand wash a volleyball ankle brace?
Again, just soak them in a mix of baking soda and vinegar for couple minutes.
After that try to rub one end of the brace against the other end of the brace, rub good. After the rubbing soak them in the mix once again and repeat the procedure until you have rubbed nearly every spot on the surface inside and out.
You can also use a sponge or a hand brush, for better results!
The example we have seen is applied to simple braces and sleeves.
Washing braces with metal parts can be tricky. Those braces cannot be rubbed against one another or in general. Those braces need a wash with the mix and a hand brush.
Take a hand brush and start rubbing the inner parts of the braces. It is crucial that you brush all the inner parts of the brace since those parts attract all the odors.
Can you put your volley ankle brace in a dryer?
No, it is not recommended to put your ankle braces in a dryer. It is highly discouraged to put your braces in a dryer, simple braces, sleeves or those sophisticated, with metal.
Simply because the materials that braces are made out of are delicate. There is a wide range of materials that is used for making braces and they are all delicate.
Braces are meant to be expendable. But when you put them in a dryer those tend to get weaker, that is they get thinner with every drying cycle.
Nothing is stopping you from drying your braces in a dryer, but that will only make them less durable and more expendable.
They will not last long. It is recommended to air dry them after every hand wash. Do not put your braces in a place where they can catch a moldy smell, and especially do not keep them in a bag, air dry them always.
The example above was for regular ankle braces, not the ones with the metal parts, those are intended to be washed by hand only, and air dried like the regular ones.
Are ankle braces machine washable?
Just as the answer before, no, ankle braces are not machine washable. I mean they are, but it is highly discouraged to wash ankle braces in the washing machine.
The reasons are somewhat the same, the fabric the ankle braces are made of will get thinner and weaker with every washing cycle.
The washing machine might seem as a good option, but it puts tension on the ankle braces, it rubs them against other clothes that the braces are washed with, and that is the main cause of the material getting thinner.
It is, as we have already established, highly recommended to wash your braces by hand. In fact, nearly all braces come with washing instructions, follow the instructions on how to wash braces and you will not regret that.
How can you stop your ankle brace from smelling?
Ankle braces tend to get smelly after a few or more practices, but that is usually because of the mismanagement of the user.
The air drying is recommended after every practice, since they will probably be a little bit wet in the best case.
Put them outside or in a place where there is good ventilation so they can get some air flowing through them. That will be enough to fend of the smell for some time. However, that does not mean that you do not need to wash them regularly.
We have already mentioned the natural way of washing your ankle braces. A mix of vinegar, baking soda and water should do the trick of fending of the smell of. The mix is as we have seen good for washing your ankle braces, but it is also good for fending of the smell.
When should you change your volley ankle brace with a new one?
If you do not follow the washing instructions or if you do not wash them like we have already mentioned you should, there is a high chance that you might need to buy new braces after a short period of time.
If the fabric is worn out, if the materials which the ankle braces are made of are damaged, or thinner, there is a higher chance that the braces can get damaged. If they get damaged you will need new braces, so it is better to check them regularly.
If the seams or straps are tearing or if any components of the braces seem lose, that applies especially to those that have metal parts, it is best that you replace the brace. There is always the option of fixing the damaged brace, but that is rarely the case.
Also the reason for changing braces can be of body type. Maybe you have gained or lost some weight. Then it is best to change the braces. Wearing too lose or to tight braces can often cause more harm than good.
On a side note, I highly invite you to check this article on how elbow pads help protect volleyball players! I think you find it quite useful …
Final Thoughts …
Having to change volleyball gear every once in a while is not fun, especially if you've got a limited budget. That's why I highly recommend you follow these cleaning & care tips not only for you volley ankle braces, but also for all other gear …
This will ensure you will keep your volley gear as much as long as possible.
Finally, I would love that you check the main differences between wrestling and volleyball knee pads!