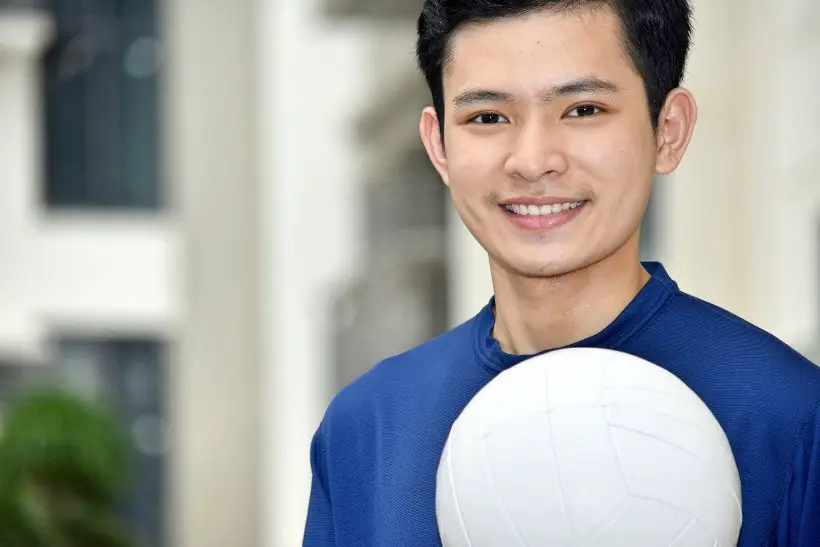 There are 2 facts that have driven me to put this post together:
First, I truly believe that volleyball in Japan is really underrated.
Secondly, I love Japan!
Many people are not so sure about how good or popular is the sport in there. Indeed …
Volleyball has been mass-marketed for TV audience for a long time in Japan.  In addition, there was a period when the Japanese men and women's team were very successful winning medals at major championships and at the Olympics. This has played a big role keeping the sport popular in the country.
In this article, I give you a clear picture on the magnitude of volleyball in this Asian country, as well as some fun & interesting facts about the sport in there!
What makes volleyball popular in Japan?
A further reason is that there is abundance when it comes to the possibility to practice the sport for men and women. In other words, you can learn and practice the sport at school and continue to follow it when you move to university. In addition, domestic league system provides the infrastructure to still be involved in the sport even after you leave formal education. 
The Media have helped create a fan base for it, which, in turn, makes people want to come out and watch games live.
Also, Promoters make sure that every game is a spectacle. Cheer leaders rally the crowds, lead them in chants and choreographed moves featuring hand motions, whilst pop stars are in hand to entertain the crowd.
For the Broadcasters it is lucrative to show volleyball on TV because it attracts millions of dollars in advertising revenue. Merchandisers also benefit from it, selling cookies and cakes, T-shirts and balloons by the thousands, used by spectators to clap together.
And some of the money generated trickles through to the grass roots level, helping develop the next generation of volleyball players.
Side Note: I am currently preparing an article where I breakdown the most appropriate volley balls for beginners. I will share the results soon! But so far, I've found out that this ball is best one!
Is the popularity trend going upwards?
Volleyball has seen an increase in popularity in recent years in Japan after the airing of an anime television series called Haikyu!! (Literally volleyball). It tells the story of a boy who was determined to become a great volleyball player despite his small stature.
Previously men's volleyball was less talked about than the women's game in the country, but the series helped changed that.
At the same time, volleyball has become more popular among women of all ages. Previously only young women were accepted to play the sport. Now, this is no issue even from a social perspective where older and/or married women can take up the sport.
Provided that the 2021 Olympics go ahead, then this positive trend can be expected to continue in the coming years.
How does this influence the sport level in the country?
The mentality shift that the sport could actually be played by women of all ages is what really positively influenced volleyball in japan.
Keep in mind that, in many ways Japan still remains a patriarchal society, with wives, for example, rarely disagreeing with their husbands in public, so a sport that openly welcomes and encourages them to play, irrespective of age or social status,  will always be popular as a form of expression if nothing else.
One thing that could give the sport a new boost in popularity, albeit a temporary one, is success at the 2021 Tokyo Olympics for either then men's or the women's team.
Even seeing the sport on prime time television day could be the catalyst for a new generation of players to take the sport up.
Where does Japan rank in volleyball worldwide?
In terms of current world rankings, Japan are the 9th best team in terms of their senior men's team and 7th when it comes to the women.
The men have enjoyed better days in the past, finishing silver medallists at the World Cup in 1969 and 1977 World Cups, but have been less successful since the advent of the World League. Regionally, they have won the Asian Games nine times, most recently in 2010
However, there is better news when it comes to the next generation of talent, at least on the female side, as their under-20 women's team is world ranked number one. 
Again, the Japanese women tend to outshine the men, having twice won Olympic Gold and picking up two silver and two bronze medals over the years. They have also enjoyed success in World Cups and regional championships, but like their male counterparts, it has been some years since they finished in the top three of a major event.
Most notable Japanese accomplishments in volleyball …
1962 Women's World Championships
Japan's women gained their first international success by winning the 1962 World Championships, which were held in the Soviet Union.
1964 Olympics
Volleyball was first introduced as an Olympic sport in the 1964 Olympics held in Tokyo.
Japan were the inaugural winners of the women's tournament which was played on a round robin basis, beating the Soviet Union into second place.
It would be 48 years before the women's team were to medal again, claiming bronze in London in 2012.
The Japanese man's team took bronze in 194, and went one better in Munich in 1972, where they took home silver medal.
1967  Women's World Championships
The Japanese women's team first won the World Championship in 1967 in Tokyo, although the achievement was somewhat diminished by the fact that there were only four competing teams. Japan took gold after winning all three of their matches, ahead of the USA.
1969 World Cup
The Japanese men finished runner-sup to the hosts East Germany in the 1969 World Cup. The next occasion it was held in 1977 on home soil, they were runners-up again, this time to the Soviet Union.
1974 Women's World Championship
The most recent success for the Japanese World Championships was in the 1974 edition, which took place in Mexico, although they did claim the silver medal in the Soviet Union four years later.
Most accomplished Japanese volleyball players …
1. Yuji Nishida
Nishida is 21 years old and currently plays for JTEKT Stings, a club based in Kanya, Aichi, Japan, as well as the national team, having graduated from their under-17 side.
His preferred position is opposition spiker, and, in June 2018, he played a big part in helping his country beat Italy for the first time in 11 years, collecting 24 points – three aces and 21 spikes.  A few months later, in a match against Argentina, he became the youngest ever player to score 30 points in a match at the Volleyball Men's World Championship.
He won a bronze medal with the team at the Asian Men's Volleyball Championships in 2019, held in Tehran, Iran.
2. Yuki Ishikawa
Ishikawa is currently the captain of Japan's Male National Team and plays as one of the outside hitters.
He became the youngest senior international in Japanese history when he made his debut at the age of 18 at the 2014 Asian Games, and went on to win a  silver medal there. Later that same year he became the first Japanese to sign with an Italian club, when he joined Parmareggio Modena.
He returned to Japan to enrol at Chuo University, combining that with a spell at Top Volley Latina as an exchange student.
Ishikawa is now back in Italy with Power Valley Milano.
His younger sister, Mayu, is a member of the Japanese national volleyball team.
Other popular sports in Japan …
Baseball is the most popular sport in Japan, where locally it is known as yakyu. There are slight differences between the Japanese version of the game and American baseball, namely the size of the ball, the strike zone and playing field, whilst there is a cap on the number of innings.
Football (soccer) was introduced to the county in the late 19th century, but it took until 1930 that the country had a national team, and more than three decades after that before the first professional league was formed. Today the J League is one of the strongest in Asia, and the Japanese team feature regularly in World Cups. In 2011, their women's team won the World Cup. (Check those general differences between both sports)
Tennis has an important role in Japanese culture, because it was the sport in which it won its first Olympic medals. In recent years, Kei Nishikori on the men's side and three time Grand Slam winner Naomi Osaka have helped put Japanese tennis on the map. (Check those specific differences between both sports)
Sumo wrestling is often considered Japan's national sport, with professional tournaments first held in 1864. It is a highly ritualised event, with it won codes and #ethics, but champions are revered within Japanese society.
Bottom Line
I really believe that volleyball in Japan is not on a bad position at all! I also believe that there is a huge room for improvement and that the country has the potential to be a worldwide leader in the sport …
… I won't be surprised if Japan starts to give countries like Brazil and United States tougher competition in the next few years.
Let's wait and see …